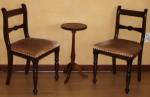 We can offer you the service of professional craftmen who do specialized reparation work to antique and other wooden furniture. This also includes piano's and paintings.
Some smaller items can be repaired on your premises with minimum disruption and inconvenience to you.
The larger items will be refurbished at our secure workshop.