Flood and Water Restoration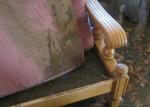 Water damage is caused by many sources like heavy rains, washing machines, dishwashers, burst geysers and pipes.
Water damage requires a quick response as after 48 hours many items may no longer be salvageable and may require replacement.
Allsure will:
Contact you immediately to assess the damage and submit a Damage Report and Quotation to the relevant insurance company.

Compile a complete inventory with photos of all damaged contents to be uplifted for cleaning, restoration or repairs.

Commence the work immediately upon authorization

Contents:

Uplift, wrap and pack all damaged contents and transport it to our warehouse for cleaning, restoration and repairs.

Take utmost care when handling your possessions and ensure that all repairs are done by our trained craftsmen.

Eliminate all mouldy odour and mould growth from contents and structure by specialized ozone treatment which kills the mould spores.

Treat your garments by removing the odour from your clothing and then washing, drying and ironing it. We have a full laundry service on site.

Rust treatment is done to prevent damage to iron furniture, fridges, etc.

Water damaged wooden furniture, piano's and even paintings can be repaired.

Ensure that all cleaned and restored contents will be properly wrapped, packed and listed for storage or delivery.

Store your contents at our safe and secure storage facility if necessary, while your structure is being repaired.

Structure:

Do structural drying if necessary, through Dehumidification by installing dehumidifiers in the affected rooms.

Do water extraction if necessary, by pumping and sucking the flood water out of the affected rooms and then drying and cleaning the rooms.

Remove and Replace all damaged carpets, cupboards and damaged ceilings upon authorization from the relevant insurance company.
| | | | |
| --- | --- | --- | --- |
| Before | Before | | |
| After | After | | |
| | | | |
| | | | |