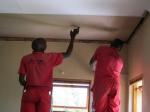 Allsure also do structural repairs in the event of flood and fire damage. When disaster strikes, lives are interrupted and routine turns to chaos. Our team is ready to respond to the needs of customers in an empathetic, timely way. We are trained, equipped, and ready to restore your home back to normal. We have skilled contractors ready to come to your home to do whatever is needed. With one call, our builders can do everything quickly and efficiently.
Call us for all your painting and restoration work. Allsure undertake private consultations from the public.
We are NHBRC certified.
Allsure will:
Develop an accurate Project Costing and submit it together with a Damage Report and photographs of the damaged structure, to the relevant Insurance Company.

Present a realistic job completion schedule to the Insurer and Client

Commence the work as soon as possible after authorization.

Keep you informed on the progress and status of the repairs being carried out.

Clean the site after repairs and dispose of all rubble or remove the salvage on behalf of the Insurer.

Provide you with a Customer Satisfaction Report to be completed after the structural repairs are done.