Fire and Smoke Restoration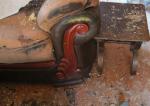 With a fire you typically have the restoration needs caused by Fire, Smoke, Water and Odour. Structure and contents not directly damaged by fire are typically coated with a fine residue of carbon deposits better known as soot.
Soot mixed with the humidity resulting from the water used to put out the flames, results in an acidic residue which will continue to damage your furniture and electronics if it is allowed to remain. Soot and toxic smoke odour,will permeate every part of the home if left untreated.
Allsure will:
Contact you immediately to do an assessment and submit a Damage Report and Quotation to the relevant Insurance Company.

Compile a complete inventory with photo's of all damaged contents to be uplifted for cleaning, restoration or repairs.

Commence the work immediately upon authorization

Uplift, wrap and pack all damaged contents and transport it to our warehouse for cleaning, restoration and repairs.

Take utmost care when handling your possessions and ensure that all repairs are done by our trained craftsmen.

Eliminate all smoke and soot odour from contents and structure by specialized ozone treatment.

Treat your garments by removing the odour from your clothing and then washing, drying and ironing it. We have a full laundry service on site.

Ensure that all cleaned and restored contents will be properly wrapped, packed and listed for storage or delivery.

Store your contents at our safe and secure storage facility if necessary, while your structure is being repaired.

We also dispose of all your damaged items or remove the salvage on behalf of the Insurer

Provide you with a Customer Satisfaction Report to be completed after the contents have been returned to you.